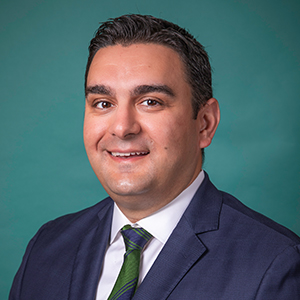 Dr. Steven Tsoraides with Springfield Clinic's Colon & Rectal Surgery team in Peoria has published an article in the Journal of the American College of Surgeons on the National Accreditation Program for Rectal Cancer (NAPRC).
The article, "Analysis of Patterns of Compliance with Accreditation Standards of National Accreditation Program for Rectal Cancer," reviews 25 rectal cancer programs across the United States who sought accreditation from the NAPRC between 2018 and 2020. While the primary goal of the study was to help prepare other programs for their future accreditation by highlighting areas that might need more attention, a secondary goal was to help the NAPRC itself in determining if the accreditation standards needed any adjustments.
"Accreditation programs for cancer have been implemented to ensure cancer patients get standardized high-quality care in hospitals across the country," says Dr. Tsoraides. "Breast cancer program accreditation was among the first organ-specific cancer programs. The Commission on Cancer has now launched the National Accreditation Program for rectal cancer to raise the bar for rectal cancer care, which is very complex and requires a very specialized approach for every patient. A small group of physicians lead committees and processes at the national level to help oversee accreditation and programs, and I am just one of a small number of surgeons leading this effort."
The research team analyzed these programs to see if patterns existed among those who were not 100% fully compliant upon first review and found that the standard that was the most non-compliant was the requirement that all patients with rectal cancer be discussed at a multidisciplinary team meeting before the start of treatment and within four weeks after surgery. This standard was also consistently not met each year by three to five programs.
The study concludes that rectal cancer programs hoping to become accredited will need to focus on this multidisciplinary team in order to meet accreditation standards. The NPARC has also demonstrated its willingness to listen to feedback about the accreditation standards by making some adjustments in order to allow future programs to achieve initial accreditation without a corrective action process.
Through this publication, Dr. Tsoraides' and his fellow researchers have contributed to the improvement of the first multidisciplinary accreditation program specific for rectal cancer in the United States. Dr. Tsoraides provides surgical treatment through a NAPRC-accredited program, the first in Illinois, located in Peoria.
See the abstract for more details on the research.