Rural health leaders gathered on Thursday, June 9th at Springfield Clinic to honor State Senator Doris Turner (D-Springfield) for her work on the successful passage of legislation to allow more health care professionals, who commit to practice in a rural setting, to qualify for a state loan repayment program to help defray the costs of their graduate student loans.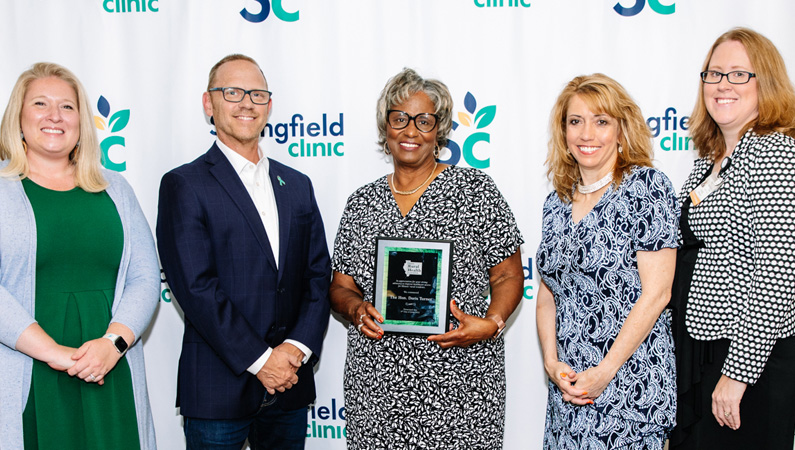 "One of biggest healthcare challenges is attracting providers to rural medically underserved areas. Sen. Turner's new law will help alleviate this problem by expanding the Underserved Physician Loan Repayment Program, to also allow Physician Assistants (PAs) and Advanced Practice Nurses (APNs) to qualify. The Illinois Rural Health Association would like to commend Sen Turner for helping our healthcare facilities to be able to serve more patients through increased recruitment and retention efforts of their medical staff," Margaret Vaughn, Executive Director of the Illinois Rural Health Association.
"It has become increasingly challenging to recruit the best providers to our rural communities over the last 15 years. This act creates important incentives that will directly help with recruitment and we thank Senator Turner and the IRHA for tirelessly championing this never-ending effort," said Zach Kerker, Vice President, Brand, Experience & Advocacy at Springfield Clinic.
"P.A. 102-088 is also a major victory for Rural Health Clinics (RHCs), which are part of a program developed by the federal government to allow rural medical facilities to maintain viability by receiving their cost per encounter for Medicaid and Medicaid patients. RHCs, by definition and law, serve rural, underserved populations. RHCs serve a large number of low-income patients, as well. Part of the reason for their existence is to increase access to care. However, to qualify as an RHC, the facility must have an Advanced Practice Nurse or Physician Assistant working 50% of the time. APN/PA recruitment is vital to an RHC's existence. Loan repayment is a minimum expectation and urgent need for APN/PA providers considering practice in a rural area," explained Charles James, who serves as President to both the Illinois Rural Health Association & the National Association of Rural Health Clinics.
While some RHCs are either government or hospital-owned, many are privately-owned and, even though they serve a low-income population, had been inadvertently excluded from the Loan Repayment
Program. Sen Turner's law will now ensure they are included. This will make a big difference for Springfield Clinic's 12 Rural Health Clinic and other independent providers.
"Private medical care providers will now have an opportunity to benefit from financial assistance while also filling the gap our rural community members experience in their current medical situation," said the chief sponsor of the new law, State Sen. Doris Turner. "I am proud of the work we put in on a bipartisan basis to ensure our rural communities continue to receive high quality medical care. The inclusion of mid-level providers in this program, will allow a far greater number of patients to be served."
The Underserved Healthcare Provider Loan Repayment Program is administered by the Illinois Department of Public Health.
About the Illinois Rural Health Association
First organized in 1989, the Illinois Rural Health Association (IRHA) is a collaborative association comprised of over 700 members including hospitals, Rural Health Clinics, public health departments, practitioners, educational institutions, and elected officials, whose mission is to strengthen health systems for rural residents and communities through advocacy, education, networking and leadership.