Dave Purves, PA-C, First Recipient of the Golden Leaf for Clinical Excellence Award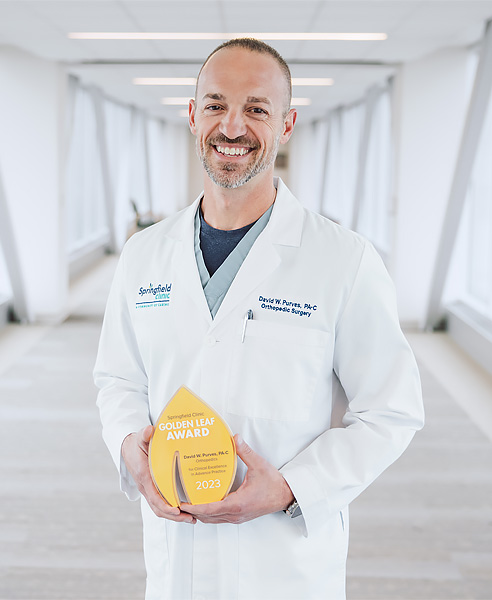 We are excited to announce that Dave Purves, PA-C, with Springfield Clinic Orthopedics is the first recipient of the Golden Leaf for Clinical Excellence in Advanced Practice Award. This award recognizes an advanced practice provider who consistently demonstrates clinical excellence and quality of care through evidence-based practice and shows an ability to lead, problem solve and drive successful patient outcomes.

"Dave is an excellent first recipient for our new Golden Leaf Award for Clinical Excellence," says Director of Advanced Practitioners Amanda Connoyer, APRN, CNP. "Through his experience both as an athletic trainer and a physician assistant, Dave provides high-quality and compassionate orthopedic care."

Dave has been with Springfield Clinic since 2007 and has nearly 20 years of health care experience both as a physician assistant and certified athletic trainer. He collaborates with Benjamin Stevens, MD.

His passion for physical activity and sports initially led Dave to pursue a career in Athletic Training. However, he wanted to further his studies and become a physician assistant and fell in love with the patient care and the opportunity to assist in the operating room.

In his free time, Dave enjoys spending time with his two daughters on their competitive softball journey. He also enjoys working out and listening to podcasts.

Hear directly from the nominators about the type of caregiver Dave is:
"Wonderful patient care and wonderful to work with!"

"Dave is a great physician assistant. He is loved by his patients and always gets great feedback. He is wonderful to work for and with!"

"Dave is amazing at what he does! He cares about what he does and is great at doing it . He is great to work for as well!"
Congratulations, Dave!