The Springfield Clinic Laboratory team's goal has always been to ensure that lab work happens as promptly as possible for clinicians and their patients. Typically, this means covering for each other and filling in whenever and wherever needed to make sure there is no interruption to collecting specimens, testing samples and getting results.
Now, it means working outside under tents, wearing full personal protective equipment and drawing blood through vehicle windows.
Once a "behind-the-scenes" support team, the COVID-19 pandemic has put Lab fully front and center, out in the open and ready to provide vital patient care in Springfield Clinic's new drive-up labs. In fact, the Lab team loves that lab work is easier and more efficient than ever for patients, with specimen collection happening in a way that keeps everyone involved safe and healthy. "There's a real sense of pride in our team," says Main Campus Laboratory Manager Joe Heigert. "Now more than ever, they're feeling like what they're doing really matters."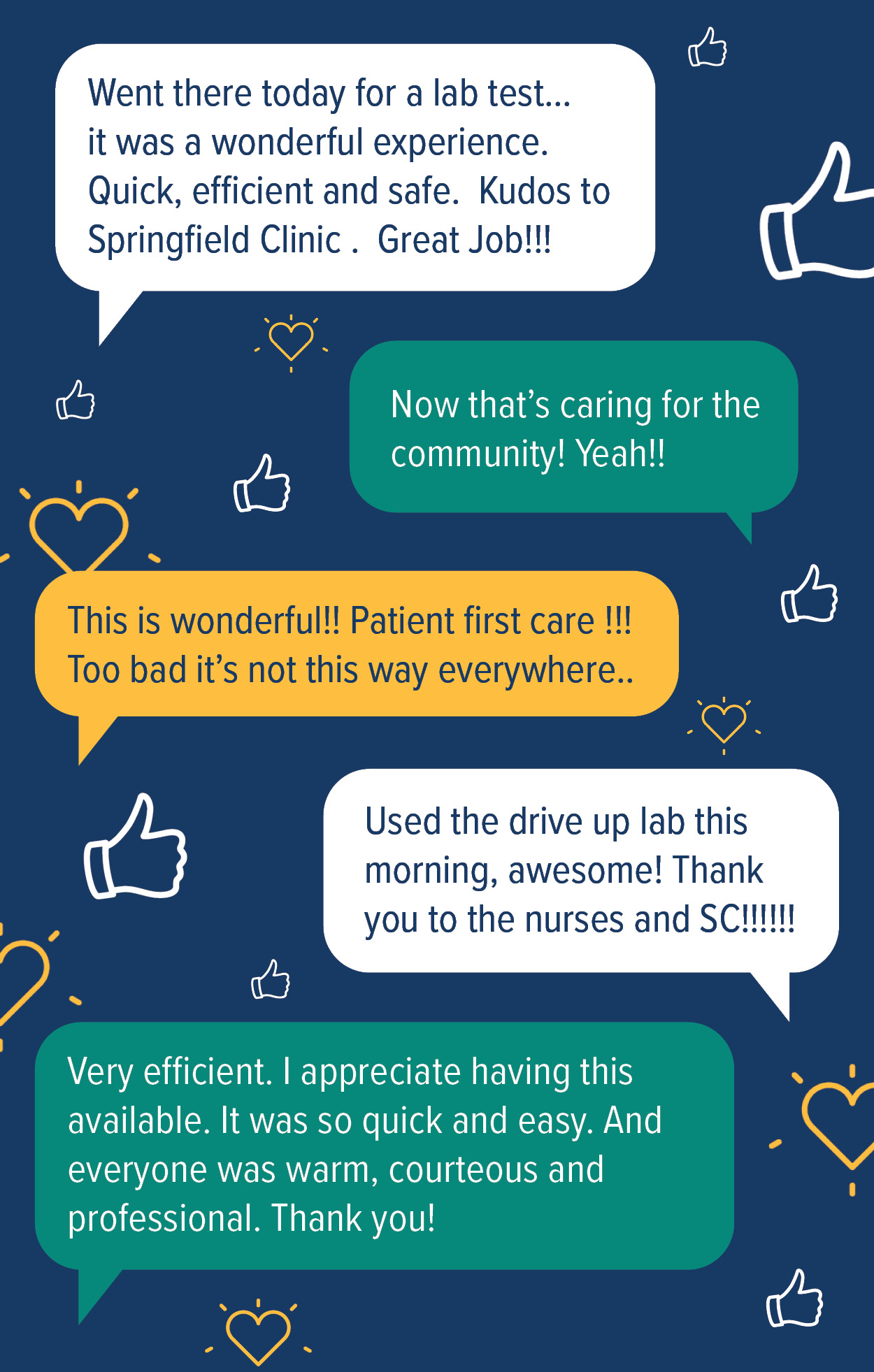 Making Routine Care Available and Safe
Getting blood drawn or your throat swabbed should be a routine part of health care, supporting your doctor's diagnosis or helping you see how you're doing managing a condition. The drive-up labs—one solution to the many difficulties surrounding the COVID-19 crisis—ensure you don't have to weigh practicing responsible social distancing with getting essential testing done. To Joe, this effort was a necessary part of continuing to provide a critical service. To some members of the community, this effort has made all the difference in whether they can get care or not, and they have been showing their appreciation.
When the drive-up labs were first opened and the team was figuring out this new process, US Bank donated pizzas to the Main Campus location through Papa John's, and Sam's Italian Pizza on North Grand donated pizzas to both the Springfield Clinic Family Practice and Main Campus locations. "The pizza deliveries really made the day easier for the team," Joe says. "Instead of worrying about when they were going to be able to take lunch and where they were going to get it from, it was brought to them."
Additionally, patients have been vocal on social media about the drive-up services, and Joe has been overwhelmed by all of the support for the Lab's efforts. "We are so grateful to our community for their kindness and generosity," says Joe.
What a "Fellowship of the Lab" Really Means
As everyone worked to get drive-up labs up and running at the various locations, Joe is amazed at how the project has brought people together within Springfield Clinic as well. Medical assistants and nurses from all over the organization volunteered to partner with the lab workers, many of them meeting for the first time, but bonding immediately over the shared strange experience of a crisis. "This has been an incredible collaborative effort between lab, the medical assistants, the nurses, Operations, IT, Marketing, Facilities and Administration," Joe says. "The internal partnerships that we have grown have been tremendous." Overnight, a "behind-the-scenes" team like Lab had become the focus of much of the organization, and the success of the drive-up labs has been felt and shared even by those not involved in the project.
Medical Laboratory Professionals Week is being celebrated April 19-25 in 2020, and the theme this year is "Fellowship of the Lab," highlighting how a lab team comes together to "get results." Joe might call the Springfield Clinic Lab team more of a "family" than a fellowship, but the theme certainly fits: Fellowship can be seen everywhere Joe looks, not just in the lab itself, but among all the offices and teams at Springfield Clinic and with the community as well. He has never felt more like Springfield Clinic is living its community of caring mission than in this moment. But, he also feels that the Springfield community is caring for the Lab, looking after their essential workers who are keeping patient care available and safe.