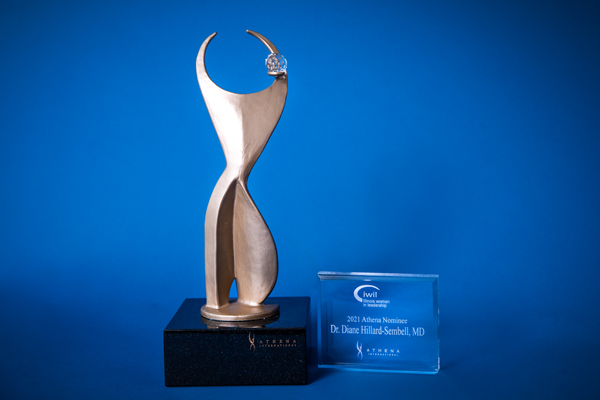 Diane Hillard-Sembell, MD, a Springfield Clinic orthopedic surgeon, has spent nearly 30 years fixing what's visible on the outside: Broken bones, worn-out knees or conditioning injured athletes to once again reach the top of their game. But, it's what inspires her from within that truly sets her apart—an unwavering commitment to service, a passion for empowering women and her ability to leave a lasting impact almost everywhere she goes.
One warm summer evening in July 2021, a large crowd gathered for a special ceremony to recognize nine amazing women from the local community. All had shown an exceptional commitment to volunteer work, demonstrated professional excellence and were actively engaged in helping other women develop leadership skills. The ATHENA Leadership Award—inspired by the goddess of Greek mythology known for strength, courage and wisdom—has been presented to Sangamon County women since 1999.
Friends, family and colleagues of the nominees packed the tables in Erin's Pavilion at Southwind Park for the announcement. And while each had demonstrated exceptional service and meaningful work this past year, it was Springfield Clinic's Dr. Diane Hillard-Sembell who was named the 2021 ATHENA Award winner.

"Before they said the name, they started reading the bio. And when they mentioned caring for local athletes, I suddenly knew they were referring to me, and it was overwhelming," she says. "It was just a beautiful feeling to be appreciated for my contributions and for what I feel is part of me. I was humbled to be up there with those ladies. They were all amazing in their own right."
While always an honor, those that know Dr. Di (as she is affectionately called by her patients) say the award was no surprise. Her dedication to service and her deep desire to give back has been a constant commitment throughout her life, something instilled in her long ago by her mother. When asked what continues to fuel that passion over the years, she references the Bible verse, Luke 12:48: To whom much is given, much will be required.
"I think I'm blessed to be given time and talents, and so the least I can do is give back."
When Science Meets Service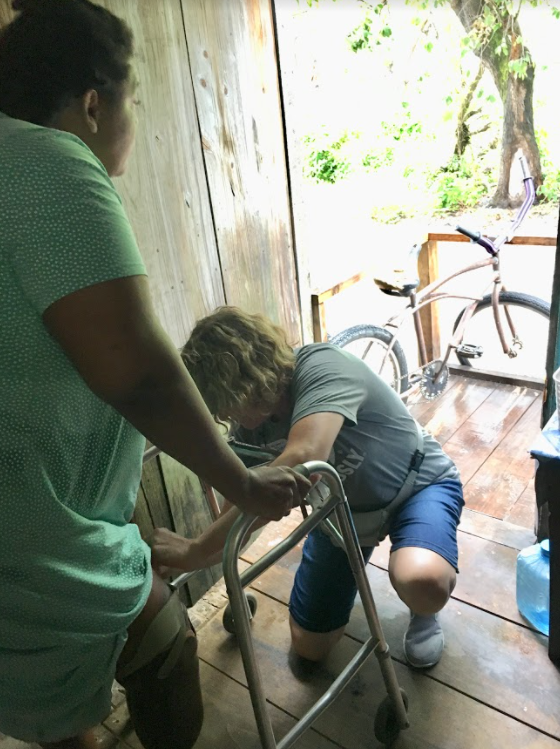 In 2019 on a medical mission trip to Belize, Dr. Di crossed paths with Mrs. Ren. It was a meeting that would change both of their lives.
Ms. Ren's right leg was amputated about a year earlier, and her prosthetic limb didn't actually fit her leg. As part of a group from Lutheran Ministries, Dr. Di was visiting Seine Bight—a small, underdeveloped village that feels like a different world than the coastal tourist spots just miles down the road.
Traveling four hours to the nearest prosthetic clinic would never financially be in Ms. Ren's reach. After hearing her story from previous missionaries, Dr. Di paid Ms. Ren a house call. After a careful evaluation and using only the supplies the team had on hand, Dr. Di used skills from her previous training as a physical therapist as well as her orthopedic surgery knowledge and was able to reconstruct the limb enough to secure a proper fit.
"I had to cut out a portion of the socket that was rubbing on her tibia; the bone was prominent and the skin was literally raw and breaking down," Dr. Di says. "So I cut it out and padded out a recess so at least she could get it on. And then we had her walk. She was very deconditioned and couldn't walk far. But we got her moving."
The room erupted in a mix of smiles, cheers and tears. Mrs. Ren's young son was there to witness his mom take the first steps. Steps, while shaky and a bit painful, that would put her on the road to recovery and a path that would change her life.
"It was one of the most rewarding experiences of my life," Dr. Di says. "There were tears streaming down my face. The moment was just so impactful, and that will always stay with me. I will always remember her and would love to visit again at some point."
It All Comes Down to 'Teamwork'
A life-long Midwesterner, Dr. Di grew up in Alexis, Ill.—a small town with fewer than 1,000 residents near Galesburg. A self-described tomboy with four brothers, she was surrounded by sports and always appreciated the concept of teamwork. Values she learned early in life from her parents—hard work, grit and perseverance—created the framework for who she is today.
"My parents left school and got married at 16," she says. "They later earned their GED's and always taught the importance of hard work and education, and they also served as terrific examples of how to stay motivated and set high standards."
In 1986, Dr. Di graduated from medical school—the same year her mother earned an associate's degree. Dr. Di said it was one of her proudest moments.
"I was her biggest cheerleader and even bought her first briefcase."
For the past 35 years, Dr. Di has been married to her husband, Mark, a retired business owner and real estate developer. Their son Evan is pursuing a career in medicine. Through all the professional achievements and personal commitments, she's never lost sight of her "home team" and what really matters.
"I try to make sure that the 'big rocks' which represent my highest priorities—faith, family and fitness—are in place before I add 'the sand' or the little things."
The long list of Dr. Di's achievements, awards and honors could fill a book. From creating a robust Sports Medicine program at Springfield Clinic to sculpting a mini butter cow for the Illinois State fair, her talent and ability seems limitless.
"We are lucky to have this gem in Springfield," wrote her nominator for the ATHENA Award. "Her talents, her leadership, her ability to continue to serve as a role model to women everywhere, especially in her predominantly male-driven field of orthopedic surgery, is such an asset to our community."
Dr. Di continues to teach medical students, orthopedic surgery residents, sports medicine professionals and her community. She says one of her favorite rewards is watching athletes who had been injured return and excel, and many times even choosing a sports-medicine-related career because of their exposure.
Last year's ATHENA Award winner, Dr. Tanya DeSanto, says Dr. Di shows a true commitment to service both professionally and personally.
"As last year's winner, I was also serving as a judge for this year's slate of candidates," she says. "What strikes me as so impressive about Dr. Hillard-Sembell is that she stepped outside of her professional job responsibilities and duties and used her gifts to truly help others. This is God's work, and it is this type of humanitarianism that will change our world."
When asked the secret to all she has accomplished, Dr. Di keeps it simple: teamwork.
Whether it's working together on a service project, sports team, with professional colleagues or as a family, almost every unit is better together. Life is better in community. We learn from one another, share in the heartache and collectively celebrate success.
In true Dr. Di fashion, she describes the sentiment in a sport analogy.
"Each person on the team has a role," she says. "The starters may change and injuries may call for the 'next man up.' Over the years, I've played several positions as needed, always with a goal in mind. Whether in an operating room, in the office, socially or on the court. Synergy makes us all better."